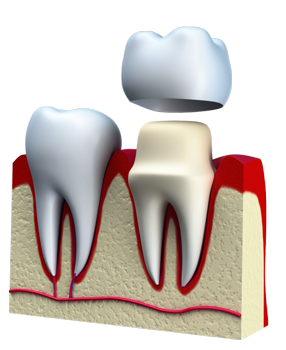 Crowns
A crown is a tooth-shaped restoration that fits over and completely encircles your natural tooth. Our goal is to create a crown that is completely undetectable and feels so natural in your mouth that you forget you have it. Your crown can also fix functional chewing problems, relive pain due to hairline cracks in teeth, perfect your bite and support your adjacent teeth.
Fitting you for one or more crowns typically requires two visits: in the first visit, Dr. James takes impressions, gently removes any decay or old restorations and shapes the tooth. You will be fitted with a natural looking temporary crown at that time. Once your new, customized and perfectly shaded tooth is ready, you will return to our office to have it fitted and cemented into place. You will leave our office with a beautiful, natural looking new tooth.
Bridges
A bridge is a dental restoration designed to fill a space in your mouth by permanently fixing prosthetic teeth to healthy adjacent teeth. Each of your teeth plays an important role in your mouth. Missing teeth can lead to improper stresses on adjacent teeth, increased incidents of periodontal problems, and changes to your appearance. In addition to filling gaps in your smile, bridges protect your gums, protect alignment and function of your teeth and support your lips and cheeks to prevent a sunken or sagging appearance. Bridges may also improve clarity of speech, which can suffer due to missing teeth.
Fixed bridges may be applied by placing crowns on the adjacent teeth, and permanently fixing the artificial tooth to the crowns. In some cases, the artificial tooth may also be fixed directly to the natural adjacent teeth.
Creating a natural looking bridge generally takes two or more appointments. First, we take impressions of your mouth to insure that the bridge will properly fit the opposing teeth and to insure that it provides a correct and comfortable bite. Teeth on either side of the gap will be prepared by gently reducing a portion of the tooth. Dr. James will prepare an attractive and comfortable temporary bridge which will be placed over the prepared teeth. The temporary bridge will both protect the prepared teeth and fill the space left by your missing tooth or teeth until your permanent bridge is being crafted.
Your carefully custom-fabricated permanent bridge will be cemented or bonded to the adjacent teeth in a subsequent visit, and you will leave our office with a full, natural looking smile.
Dental Implants
Dental implants are restorations that are placed upon a titanium post or anchor embedded within your existing bone. Over time, the bone of the jaw integrates with the implant and fully secures the implant in your mouth. Dental implants can support crowns, bridges or dentures.
The job of your prosthodontist is to make sure that everything place upon the dental implant – the portion that you see when it is placed in your mouth – is beautiful and functional. Dr. James will therefore carefully study your bite and your existing teeth to insure that your final implant is so perfectly shaded and shaped that it is undetectable among your natural teeth and any existing dentistry, and so comfortable that you forget you have it.
Veneers & Cosmetic Treatment
A beautiful smile projects happiness and self-esteem. If you, like many people, are hiding your smile due to embarrassment over the appearance of your teeth, a prosthodontist can rejuvenate your smile to help you regain and project self-confidence. Prosthodontists are experts in restoring broken, discolored or misshapen teeth. Excessively worn or broken teeth may be covered by esthetic crowns. Your prosthodontist may place custom-shaded veneers over teeth to conceal wear or defects, and/or bond your teeth to close gaps and smooth or fill out misshapen teeth. Professional whitening or bleaching of discolored teeth can remove years of stains and brighten your smile.
If you are dissatisfied with the "look" of your teeth, please contact us. Dr. James will take the time to listen to your concerns, evaluate your bite and determine how to best improve the esthetics of your smile.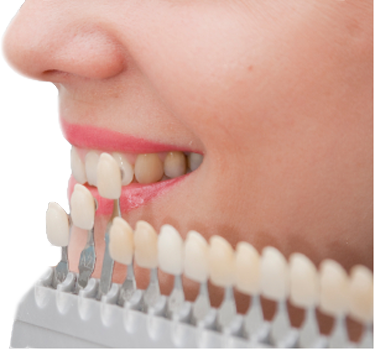 Dentures
A denture is an appliance/prosthesis that is inserted into the mouth and replaces natural teeth while also supporting the lips and cheeks. Dentures may be made after the teeth have been extracted and the gum tissue has healed, or immediately after the teeth are extracted, in which case the tissues are allowed to heal beneath the denture. Both types of dentures may be fitted over treated natural teeth, or anchored to dental implants. Denture teeth are seated in tissue-colored acrylic, resulting in a beautiful, natural-looking smile.
Creating and placing a perfect denture typically requires five separate appointments. For many patients, it can be difficult to impossible to carve multiple time slots from their busy schedules. For those patients who are short on time or are traveling to us from a distance, we offer our Denture in a Day appointment.
Express Denture: After seeing you in the morning, Dr. James will begin crafting your denture in our in-house lab. You will meet with Dr. James periodically throughout the day, until your new tooth or teeth are set in wax and ready for you to evaluate. Between appointments, you are free to remain at our office or to enjoy restaurants and retail shopping just outside our door. Your beautiful, natural looking new teeth are typically ready for try-on by early to mid-afternoon. Once you and Dr. James are satisfied with your denture, your work is done. You will have completed four of the standard five appointments in one trip. Your denture will be processed and ready for pick-up in about a week, uninterrupted by return visits.
As these are popular appointments, please let us know at your earliest convenience if you prefer the Denture in a Day option.
Anchored Implant Restoration
If you need to replace a full arch of missing teeth (all of your upper teeth or all of your lower teeth), an anchored implant restoration may be an excellent treatment option for you. This system provides you with a beautiful, natural looking and permanent arch of teeth that are immediately functional. An anchored implant restoration often eliminates the need for bone grafts in patients with low bone volume, and is therefore a great choice for patients who do not have enough bone to support other prostheses, or who for medical reasons or reasons of inconvenience, do not wish to undergo bone grating. Because an anchored implant restoration is permanently placed, patients do not experience the hassles that may be associated with removable devices. There are no "forbidden" foods, and daily oral hygiene care is easy.
Your new arch of teeth will be supported by four dental implants. These differ from traditional implants, in that the rear implants are placed at an angle to maximize anchoring within your existing bone structure, even if you have lost some bone volume. The new teeth are carefully affixed to the implants, leaving you with a full arch of functional, natural-looking teeth.
At your first visit, Dr. James will conduct a thorough examination to determine whether an anchored implant restoration is right for you. Impressions will be taken in order to study your bite, to insure a perfectly functional, comfortable fit between the new arch and your existing teeth, or between two opposing implant arches. Dr. James will also carefully match the shape and shade of your new arch of teeth to your opposing teeth. Our goal is to create an arch that is so comfortable that you forget you have it, and so perfectly matched to your existing teeth and/or skin tone that no one else knows it is there. When people see our patients, they don't see "dentistry". They simply see a natural and remarkably beautiful smile.