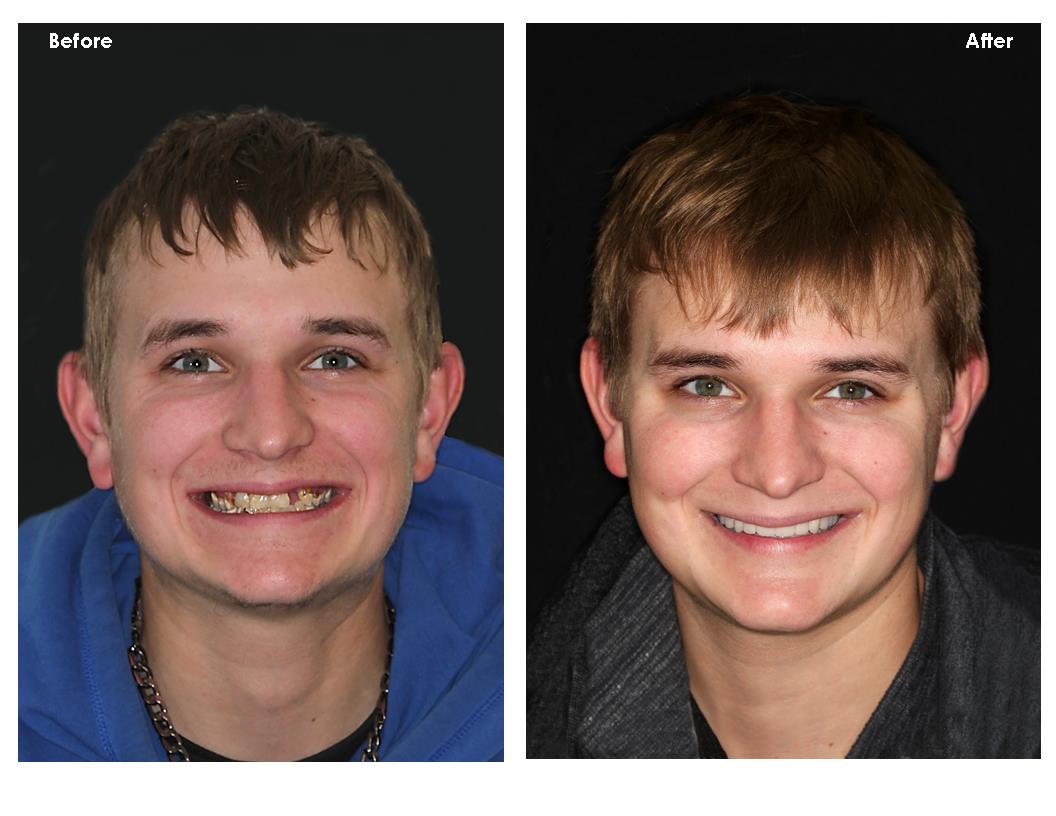 Challenge
Will came to our office after seeking the care of a general dentist who was not comfortable treating his complex dental needs.
Will started using prescription drugs in high school, and soon formed a habit.  Although Will's problem with prescription drugs was dangerous enough, his life truly began to spiral out of control when he tried heroin.  In Will's words: "A guy just said, hey try this.  I did.  Then I learned that the day you try heroin is the day you become an addict."
Will's addiction was instant and all-consuming.  When he reached an inevitable low point in his life, he asked his mom to take him to rehab.  Thus began Will's difficult journey from addiction to sobriety.
Unfortunately, Will's teeth were severely compromised by his heroin addiction.  Heroin is an opiate drug that restricts healthy salivary flow in the mouth.  The foods and drinks that would normally be diluted by saliva were left in high concentrations around Will's teeth.  This, coupled with less attention given to his teeth during his period of heroin use, created a prime environment for extensive decay to take hold and destroy his teeth.
What we did
Will was very realistic about his dental condition.  Dr. James explained that without enough sound tooth structure, attempting to keep and restore his teeth (for example, using veneers, crowns or bridges), would be a waste of his time and money.  Will's teeth needed to be replaced, not restored.  Will and Dr. James agreed to create a full upper denture and a lower implant reconstruction.  The upper denture could later be used to begin an upper implant reconstruction, if Will wished to do so.
Dr. James coordinated with Will's oral surgeon, and placed his reconstructions on the day that his teeth were removed.  Additional fit adjustments were made and continue to be made as he heals.
Will has been extremely pleased with his results, and we are happy to have helped Will regain his smile as he continues his recovery.  He is now working towards a degree in nursing.  Will hopes that by sharing his story, he can help others who have struggled with addiction to see the possibility of new beginnings.